Agony of DaFeet, Inc.'s express foot massage therapy is very convenient because of its portability. We have the capacity to offer this unique service to numerous people, all in a short period of time. 
How does it work? Clients remain clothed (except for shoes and socks/stockings) keeping turn-around times short and helping to create a comfortable environment. 
Receiving a De-AgonizerSM foot massage can be an effective method for the relief of aches and pains, as well as the reduction of stress.
  Employee Benefits

  Employer Benefits

  Foot massage may promote:

Decreased Stress

Increased Morale

Immune System Boost

Improved Circulation

Headache Relief

Aching Feet Pain Relief

Improved Thinking

Lowered Blood Pressure

  Foot massage may promote:

Increased Productivity

Elevated Morale

Motivated Employees

Improved Retention Rates

Decreased Absenteeism

Reduced Stress Levels

Positive Impact on Bottom Line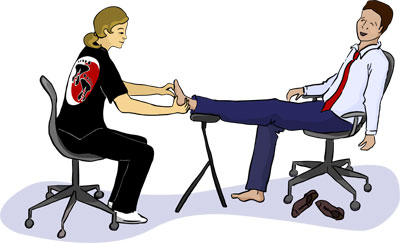 Relax, relieve and ease pressure of aching feet, naturally.

Promotes increased blood circulation.

 

(Blood takes nutrients to our cells and toxins away from our cells. Blood is the lifeline of the body.)

Promotes mental and physical wellness.

Promotes increased work productivity.

May help alleviate symptoms of depression.