De-AgonizerSM Sessions
Set yourself apart from other booths at your next trade show or convention with this brief, but effective foot massage.
Increase Visibility

Drive Traffic to Your Booth
Providing complementary foot massage at your convention booth is a wonderful way to drive traffic to your booth and get your company noticed. Probably the biggest challenge in a convention setting is setting yourself apart in a way that draws a prospective client's attention and maintains it. Foot massage at your convention booth provides you with an excellent way to get those few moments to make your pitch.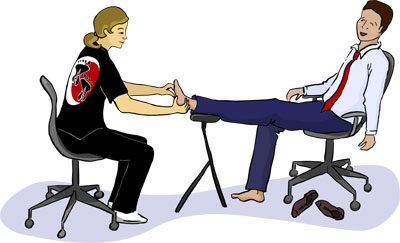 Making Contact
Having a one of our express foot massage therapists on hand, giving a De-AgonizerSM session to each attendee who wants one, helps you to make more contacts. While your potential client stands in line waiting for his or her turn at the foot massage recliner, you get to introduce yourself. You can start talking about your own products and services, while uncovering your future client's needs.
As he or she takes a seat, another potential client of yours, stands up. This is your chance, after their satisfying express foot massage therapy, to re-connect … following up on your previous conversation. This is a powerful way to build new client relationships in a trade show or convention
setting.
(For best results, we recommend a ratio of 1 Foot Massage Therapist per every 2 sales reps.)
Agony of DaFeet, Inc's Express Foot
Massage Therapy therapists have touched thousands of
feet over the years. 
Request your free quote today to experience the wonderful benefits of express foot massage therapy.